Spiral jet mills are already in use in numerous application laboratories for the dry grinding of product samples.
For the first time, in the form of the ConJet® model high-density bed jet mill, a spiral jet mill has been put on the market that makes it possible to exactly set desired finenesses without changing the product load. The infinitely adjustable classifier wheel integrated into the machine housing provides an upper particle size limitation of the final product that can be exactly defined and reproduced at any time.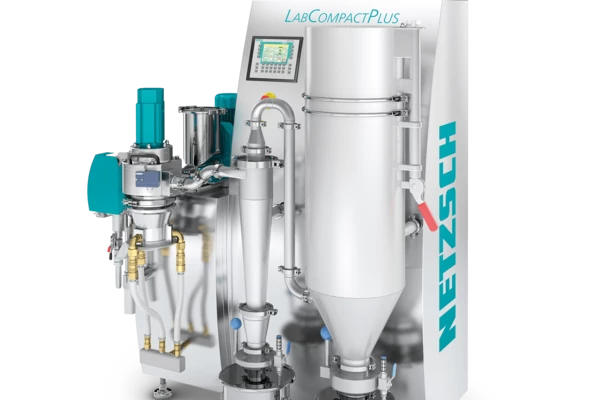 The compact machine housing and grinding principle of this laboratory machine allow processing without notable product loss.
Until now the grinding fineness of spiral jet mills was set by adjusting the product load. This setting can now be adjusted by simply regulating the rotational speed of the classifier wheel.
The easy to open machine housing allows fast, complete cleaning of the machine when product or batches are changed. It is the utmost in user friendliness!
The plant is designed to be modular, so that other modules can be added, such as our CGS Fluidized Bed Jet Mill and High-efficiency Classifier Model CFS/HD-S to make a completely versatile laboratory platform.
NETZSCH Laboratory Plants
Technique
Finenesses from d97 2.5 µm to d97 70 µm (based on limestone)
Spiral jet mill for the ultra-fine grinding of soft to the hardest of materials
Exactly defined maximum particle sizes through an integrated, dynamic air classifier
Variable fines setting independent of the product load
Classifier wheel with simultaneously rotating immersion tube to achieve highest finenesses, infinitely adjustable
Gap between classifier wheel and fines outlet rinsed by gas for highest possible prevention of oversize particles in the product
Classifier shaft seal rinsed by compressed gas to protect the bearings
Excellent accessibility for fast, easy cleaning and maintenance by swinging open the housing door
Easy to use machine
Easy change of product
High energy density due to rotating product bed. Result: Up to 40% more effective than conventional jet mills
More efficient grinding (higher throughputs possible)
No residual contents in machine housing, therefore practically no loss of product
Shipped ready for immediate operation
Can be combined with other machine modules
Optional designs available: pressure shock resistant, gas tight, wear protected
Your Contact at NETZSCH
Any specific questions? Contact us for help.
you may also be interested in: