The LabCompactPlus was especially designed for use in laboratories. The technology of production-size plants which has been channeled into the design of this product guarantees a stable and reproducible processing method.
Naturally the daily conditions of laboratory operation were taken into consideration during the plant construction. As well as the actual machine, the plant comprises a very compact operating module including feeding, cyclone, filter, blower and electrical control unit which enables our customers to install this plant in a very small room.
The complete plant is mounted on one single base frame and is delivered completely installed. This means that commissioning can be carried out straight after delivery in the customer´s lab!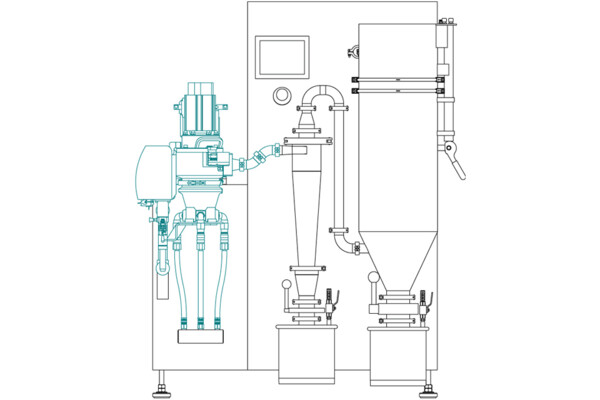 Flexibility
The NETZSCH LabCompactPlus is available with the following machines, which can be easily exchanged:
Fluidized Bed Jet Mill CGS 10
High-Density Bed Mill ConJet® 10
Classifier Mill CSM 50
Ultra-Fine Classifier CFS 5
High-Efficiency Classifier CFS 5 HD-S
Each machine is taken up by a swivel arm on the machine base and can be exchanged very easily using an individual connecting kit for each machine type.
Focus on Your Advantages
Quick and easy cleaning
Optimum accessibility
Efficient product separation
Dust-free filling
Compact installation, optimized machine base
Low feed height
Maximum individual weight of each component for cleaning and maintenance is < 5 kg
Simple clear operation
Setting of all process parameters via integrated operator panel
Machine can easily be exchanged thanks to individual connecting set for each machine type (electricity and compressed air)
CompactPlusCart for easy exchange of machines (optional)
Your Contact at NETZSCH
Any specific questions? Contact us for help.
you may also be interested in: