This innovative air jet mill is capable of fine grinding all kinds of dry products with virtually no contamination.
Through this specialized milling concept, product grinding is entirely autogenous. Gas jets alone create the grinding energy. No tool wear occurs!
An integrated dynamic air classifier in the housing can be infinitely adjusted to the desired fineness. This guarantees exact adjustment of the grinding parameters and reproducible product quality.
Even the hardest of products poses no problem for this machine. In addition, extremely temperature sensitive products such as wax can be processed under continuous operation.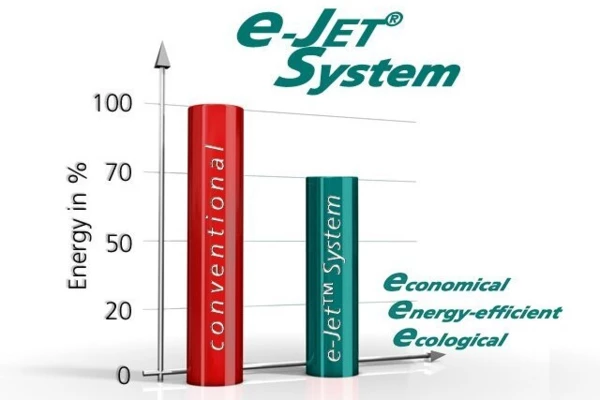 NETZSCH e-Jet®
The new e-Jet® System (efficiency, economy, ecology)
Where air jet mills not economical for your product and application in the past? Not anymore! We have closely examined the energy efficiency of this technology. The result is a completely new grinding method.
Until now air jet milling, due to its energy consumption, was only cost efficient when applied to high value products. Now many other materials can be economically processed in our fluidized bed jet mills.
Economy is only one of the distinguishing features of our new e-Jet® System (patent pending). Process optimization through the adaptation of grinding conditions provides energy savings of up to 30 % compared to the conventional operation of air jet mills. Products that in the past could only be economically processed in mechanical mills, can now be micronized even more economically in our CGS Fluidized Bed Jet Mill using the e-Jet® System.
Convince yourself! This energy efficient milling system is now available for direct comparison in our laboratory in Hanau!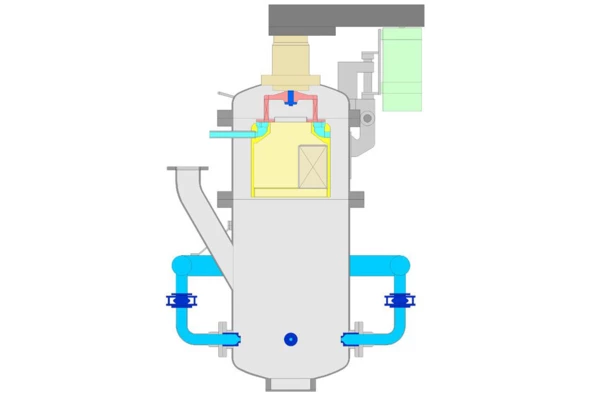 Technique
Finenesses from d97 < 2 µm to d97 70 µm (based on limestone)
Air jet mill for the ultra-fine grinding of soft to hard materials in a fluid bed
Newly developed grinding methods e-Jet® and s-Jet® (patent pending)
Exactly defined maximum particle size through integrated dynamic air classifier
Vortex free fines outlet with expansion chamber to reduce circumferential speed and wear as well as buildup of residues
Classifier wheel with exchangeable, simultaneously rotating immersion tube to achieve highest finenesses, unlimited adjustment
Gap between classifier wheel and fines outlet rinsed by gas for highest possible prevention of coarse grains
Classifier shaft seal rinsed by compressed gas to protect the bearings
Entirely autogenous grinding - no tool wear - no contamination
Warming of product prevented by grinding with cooled gas (20°C), therefore applicable for extremely temperature sensitive materials
Significantly lower compressor capacity as opposed to comparable jet mills
Highest finenesses and maximum throughput achievable with just one classifier wheel
Hinged classifier head provides good access for fast and easy cleaning and maintenance
Reproducible results
Optional designs available: pressure shock resistant, gas tight, inert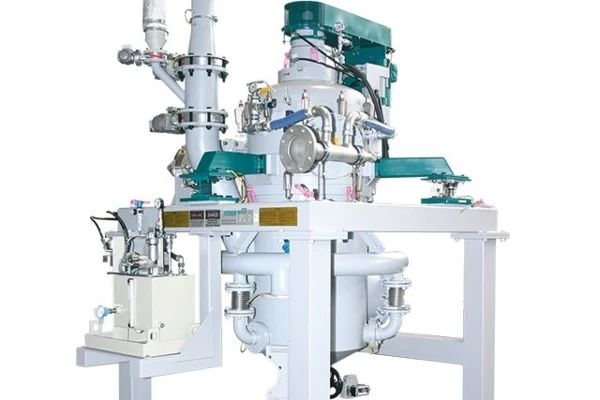 Videos
NETZSCH Fluidized Bed Jet Mill CGS
Your Contact at NETZSCH
Any specific questions? Contact us for help.
you may also be interested in: