The multi functional laboratory mill LabStar enables scientific academic work on difficult research and development tasks and impresses with its easy handling.
The laboratory mill LabStar is the smallest grinding mill of NETZSCH-Feinmahltechnik GmbH that enables an exact scale-up to comparable production machines. Depending on the application, three state-of-the art grinding systems – Zeta®, Discus and Neos are available in different material designs.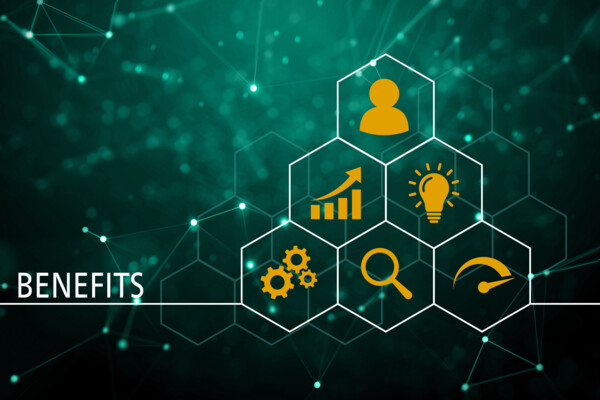 Technique
Zeta®, Discus and Neos grinding system in different grinding chamber designs (NETZSCH Ceram_C, NETZSCH-Ceram N, NElast, NETZSCH-Ceram A, Cr-Ni-steel)
Sealing of the grinding chamber by double-acting mechanical seal
Swiveling grinding tank facilitates filling and emptying of the grinding media
Easy cleaning
Drive of the agitator shaft and pump via frequency inverter
Operating terminal with display indication of the operating parameters
Data collection by specially developed software NETZSCH-Connect
Also available in explosion-proof design
High reproducibility
Exact scale-up
Pharmaceutical design also available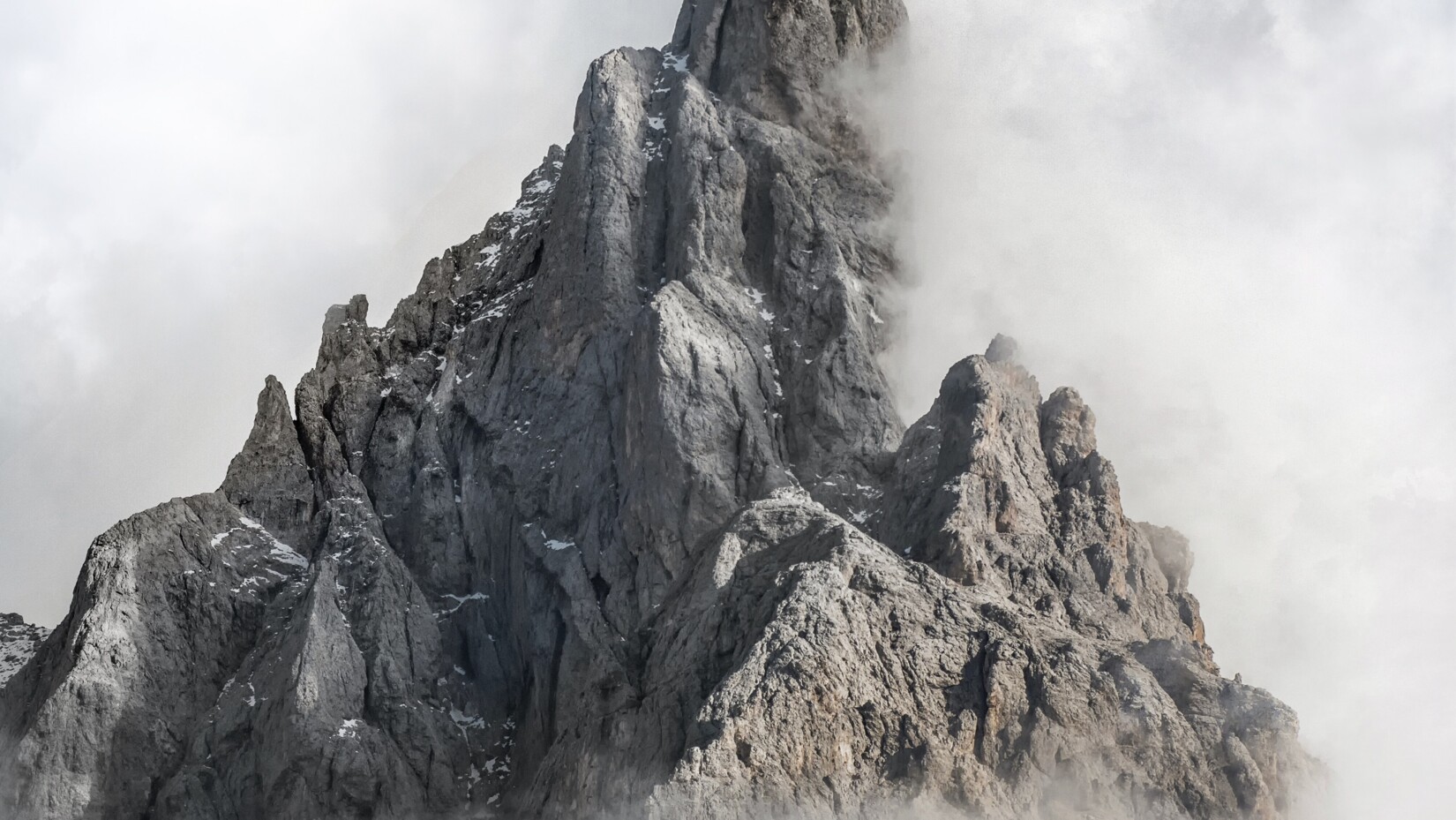 Very easy Handling without the Loss of Grinding Media
The grinding chamber of the LabStar laboratory machine can be swiveled. In the "Prepare" position, different grinding systems can be coupled with the machine platform quickly and easily. The grinding media are simply filled from above into the process chamber. In the operating position, we guarantee a homogeneous distribution of grinding media in the grinding container. At the right angle of inclination, the service position allows the uncomplicated and residue-free discharge of the agitator bead mill. Screw connections allow quick disassembly of all components for cleaning.
FILL POSITION
Preparation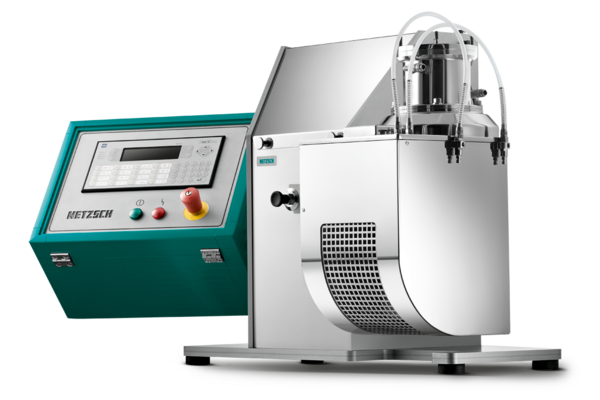 OPERATING POSITION
Grinding & Sampling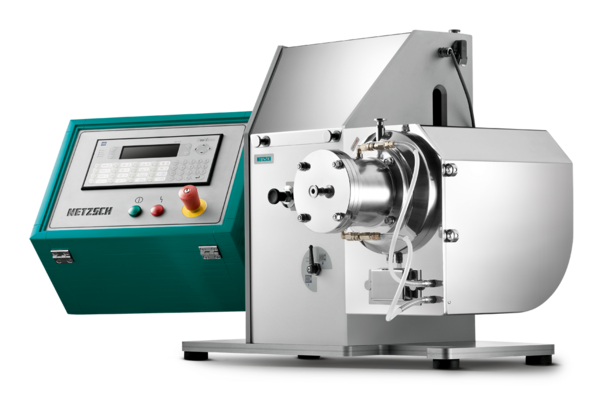 SERVICE POSITION
Emptying & Cleaning
Grinding Systems
The LabStar leaves nothing to be desired in terms of application possibilities. All of the familiar grinding systems can be mounted on the LabStar.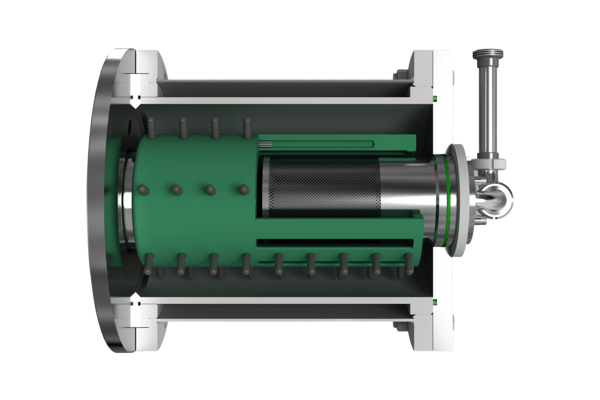 Zeta® System
The Zeta® circulation system, patented in 1991, was specially developed for recirculation grinding. The Zeta® grinding system is available in various materials
such as NETZSCH-Ceram Z, NETZSCH-Ceram N or NETZSCH Ceram_C or NElast. The grinding system is designed such that very flexible grinding media sizes between 0.1 mm and 2.0 mm can be used.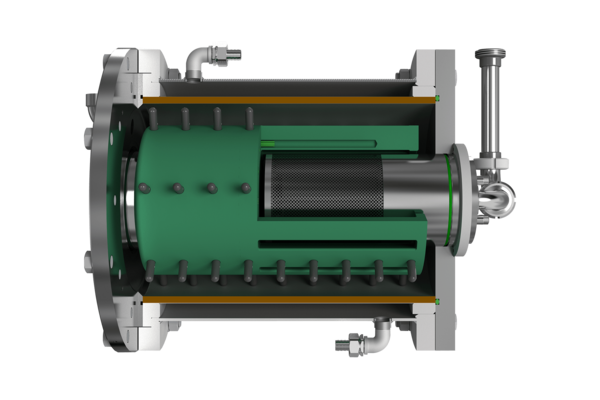 Neos System
The Neos grinding system is a horizontal peg grinding system for grinding temperature-sensitive systems with very small grinding media at extremely high product throughput rates in circulation mode. Based on the proven Zeta® grinding system, it was specially designed for reliable use of very small grinding media between 0.1 mm and 0.8 mm.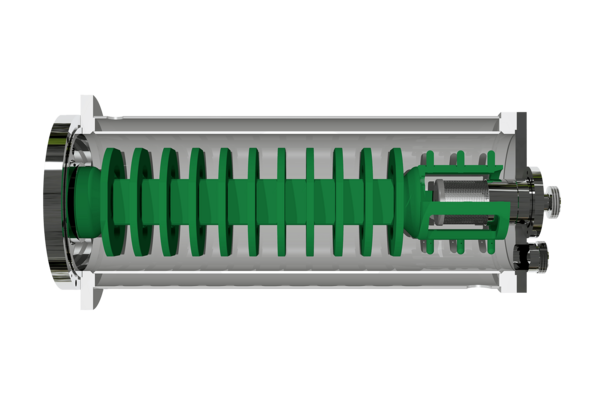 Discus System
The advanced disk grinding system Discus is primarily used for dispersion tasks in single and multi-pass operation with grinding media sizes between 0.3 mm and 2.4 mm. It is a logical advancement of the TriNex® grinding system.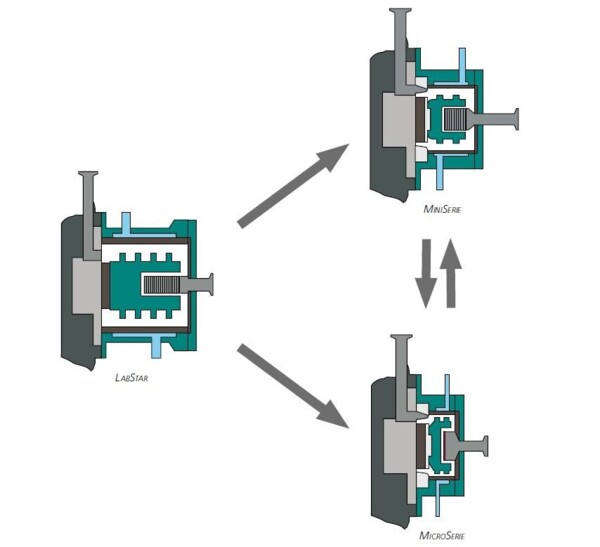 Flexibility without Limits
The variation possibilities of the multifunctional laboratory mill - the LabStar - have been extended by another feature. Now you can not only select from the two scale-up-capable grinding systems Discus and Zeta®, as well as a variety of material options, but also convert to the smaller grinding chamber designs of the 230 ml MiniSeries and 110 ml MicroSeries. A special conversion kit has been developed for this purpose, which requires short assembly times. This new additional feature makes the LabStar the most flexible all-round laboratory mill on the market.
Videos
NETZSCH Universal Laboratory Mill
LabStar
Your Contact at NETZSCH
Any specific questions? Contact us for help.
you may also be interested in: