05.08.2022
Condux® with Classifier
New development for a proven system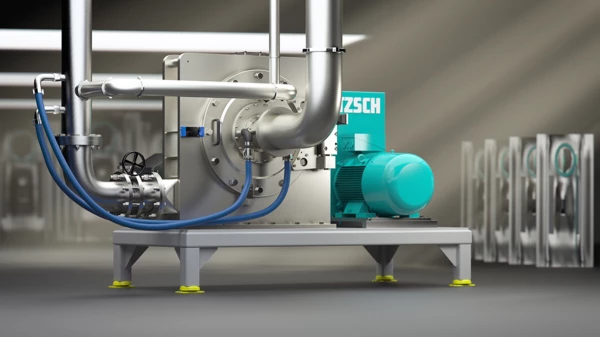 NETZSCH equips the Condux® impact mill with a dynamic air classifier
Equipping modern production facilities with flexible process systems offers numerous advantages. For example, it is possible to react quickly to new market and product requirements, and the acquisition of only one system leads to immense space and cost reductions. However, it must be possible to guarantee automatic process adaptation or rapid replacement of mechanical components on the plant during daily operation.
NETZSCH recognised this trend years ago and designed a modular system in the area of dry grinding with the Condux® impact mill series, which can accommodate up to 4 rotor types by means of application-specific housing designs. In addition, the simple housing design makes the mill easier and faster to clean compared to conventional designs. Likewise, a repeatedly expressed customer wish has been met by a narrower gradation of the sizes in the smaller range. Equipped with different grinding tools and stators, a product-optimised mill is now available that can also be used in pressure-shock-resistant or inert-gas systems and in cryogenic grinding.
NETZSCH has now launched another version of the proven Condux® with an integrated dynamic air classifier. This is used when the desired final fineness cannot be achieved with conventional sieve-less pin or blower mills with sieve insert. With the new Condux® variant, a variable setting of the separation limit is easily achieved by adjusting the classifier wheel height. This results in an exact upper particle size limitation of the product during grinding in the range < 50 µm.
In contrast to conventional classifier mills, the grinding disc and classifier wheel are connected to each other in a rotationally fixed manner and are operated by a common drive motor. This considerably reduces the investment costs of the plant and enables economical ultra-fine grinding.
All in all, the Condux® impact mill is the ideal, highly flexible solution for grinding many products from the industrial sectors of food, cellulose derivatives, animal feed, chemicals and plastics with particle sizes < 50 µm.
Application examples for the Condux® impact mill with dynamic air classifier
Grinding of granulated sugar into powdered sugar
Starting from a feed size of 0.8 - 2 mm, the sugar is ground in the mill to a size of 20 - 50 µm. Depending on the application and stabilisation, the powdered sugar is either packaged after grinding or directly processed further.
Ultra-fine grinding of various press cakes
for example from sunflower seeds, almonds and various oilseeds. Coarsely pre-crushed pellets or "flakes" up to 2 cm can be fed directly into the Condux®.
Various pre-crushed spices
with a feed size of approx. 2-3 mm are ground with the Condux® to sizes below 0.5 mm and used, for example, as seasonings in various ready-to-eat meals such as instant soups, pizzas or paellas. Depending on the type of seasoning, the mill is used in the version with pin discs, blast rotors or wing beaters.