06.08.2021
Pre-dispersion like a Pro
With the new NETZSCH ProPhi pre-grinding unit, a significant increase in production capacity with excellent reproducibility as well as enormous energy savings are achieved.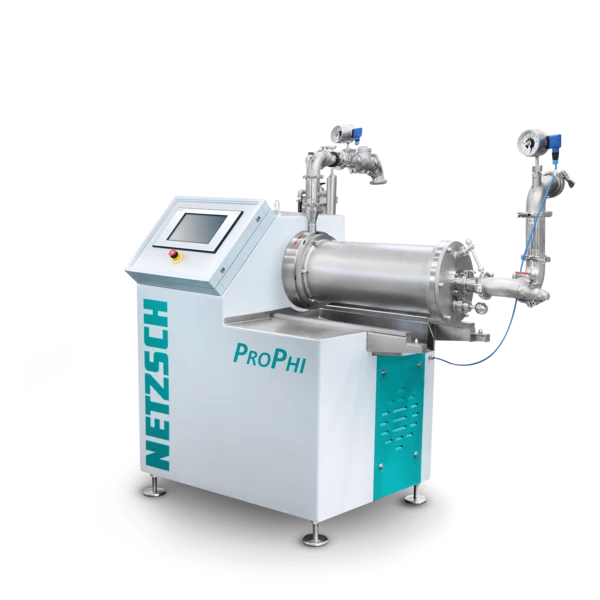 A pre-mill fulfills the task of grinding coarse feed material that is difficult to handle in a standard mill. Pre-dispersion of agglomerates, which is usually done batchwise or continuously in intensive mixing units, can also be carried out there. This requires the upstream introduction of the solids into the liquid phase. A major challenge in the continuous preparation of coarse suspensions is their tendency towards sedimentation, which can be solved by a correspondingly high flow rate or high product throughput.
ProPhi is the name of the new NETZSCH pre-grinding unit. ProPhi 20 is a disk agitator bead mill modified for coarse grinding with high throughput with a grinding chamber volume of approx. 20 liters. In the peripheral speed range of 8 - 12 m/s, a product throughput of up to 25 m³/h can be achieved with this machine size. The diameter of the grinding media used typically ranges from 2.0 to 4.0 mm.
During development of the pre-grinding unit, a disc agitator was selected as the basis because, compared to a pin agitator, the same net power input yields almost double the grinding chamber volume. This means that significantly more grinding body contacts and a larger cooling surface are available for grinding. Essential for achieving the extremely high product throughput rates is a highly efficient separation system, which allows the grinding media to be left evenly distributed in the grinding chamber with low counterpressures.
The ProPhi pre-grinding unit can be supplied in different machine sizes depending on the batch size.
With a pre-grinding unit, the particle size distribution of a product can be adjusted so that very small grinding media can be used in the subsequent fine-grinding stage. The grinding media size in the fine-grinding stage has a decisive influence on the specific energy requirement for achieving the required product quality.
Tests with different products have shown that process control with the NETZSCH ProPhi pre-grinding unit can reduce the specific energy requirement by more than 50% as compared to an approach using classic pre-dispersion systems. At the same time, this means a multiplication of production capacity.