The optimization of production processes, including the planning of maintenance and service tasks, requires the evaluation of process data over an extended period of time.
At the same time, data analysis can be used to outline production and down times and detect possible causes. The acquisition and storage of various process data can be continuously recorded, pre-processed and encrypted with two different data aquisition systems.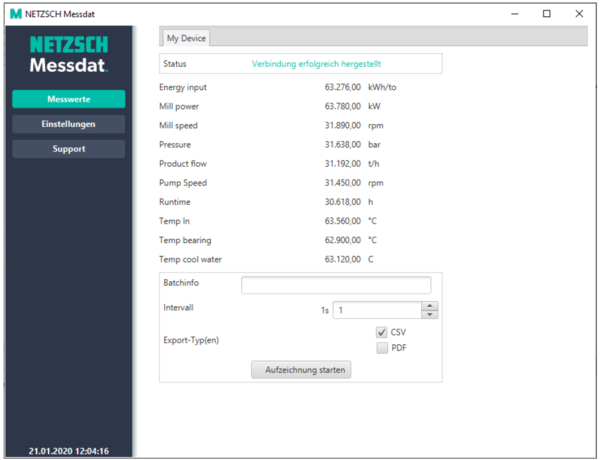 MessDat
The data acquisition system serves to record measured values from a machine and consists of the hardware required to transfer the available measurements via an Ethernet connection and software for installation on a PC. Following values can be acquired, if the necessary measurement points are available on the machine:
Power consumption of the agitator drive
Mill speed
Pump speed
Product pressure
Product outlet temperature
Energy input
Operating time
Expandable up to 10 measurement values
The measured values are saved with date and time in a CSV- or PDF-file. The sampling interval for data logging can be selected by the user.
Your Contact at NETZSCH
Any specific questions? Contact us for help.