The optimization of production processes, including the planning of maintenance and service tasks, requires the evaluation of process data over an extended period of time. At the same time, data analysis can be used to outline production and down times and detect possible causes. The acquisition and storage of various process data can be continuously recorded, pre-processed and encrypted with two different data aquisition systems.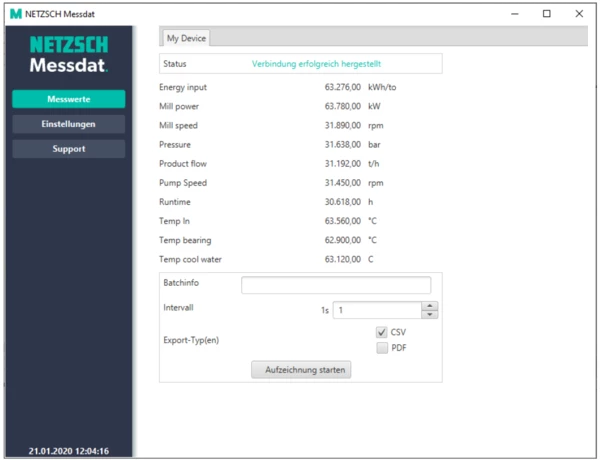 MessDat
The data acquisition system serves to record measured values from a machine and consists of the hardware required to transfer the available measurements via an Ethernet connection and software for installation on a PC. Following values can be acquired, if the necessary measurement points are available on the machine:
Mixer speed
Mixer output
Mixing duration
Product temperature
Other relevant machine data
The measured and input data are stored in a CSV file and the current measured values are displayed. The acquisition rate can be pre-set by the operator to intervals ranging from 1 s to 10 min. After successful data acquisition, additional evaluation in a spreadsheet program is possible. MessDat is available only with NETZSCH Iris control system.
Your Contact at NETZSCH
Any specific questions? Contact us for help.