07.11.2013
Nanomilling for Pharmaceutical APIs – The NETZSCH DeltaVita®® Mill
More than 90% of drugs approved since 1995 have poor solubility, poor permeability, or both.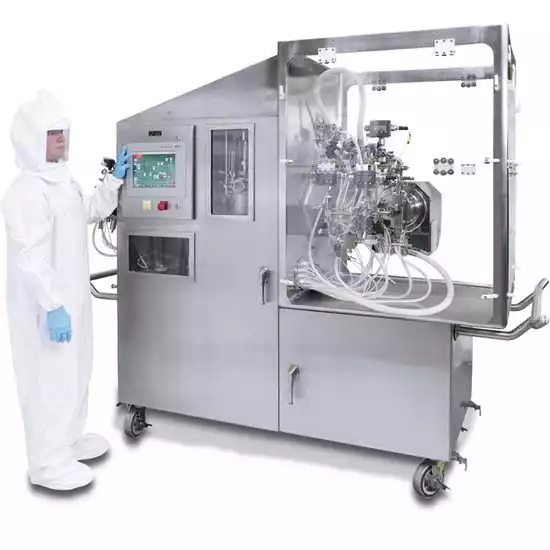 Drug performance can be improved by reducing the particle size and at the same time increasing the specific surface area of the active pharmaceutical ingredients (API). Therefore, however an API is administered – in tablet, capsule, powder, or liquid form – small particle sizes offer exciting advantages for pharmaceuticals. Known benefits include improved dissolution rate, increased bioavailability and higher activity, leading to lower dosages and a lower risk of side effects for the patient. Reducing drug particles to nano-size increases their surface area, and subsequent solubility dramatically.
The NETZSCH DeltaVita®®® mill has been specially designed to efficiently increase solubility of APIs, thereby enhancing their efficacy. Through the efficient use of energy, high flow-rate, multiple-pass grinding strategy, DeltaVita®®® mills achieve excellent repeatability as well as homogeneous dispersion. DeltaVita®®® mills are fast, extremely versatile and designed to produce a very narrow range of ultra fine particles in a homogeneous formulation. Specific energy reductions of up to 30% can be realized.
With the DeltaVita®®®, users can achieve consistent particle size distributions below 100 nanometers to increase surface area, solubility, and bioavailability. Nanometer-scale particles provide many advantages. Gene and vaccine delivery becomes more targeted, as well as the development of particles which cross the blood brain barrier. Nanoparticles can enhance the properties of time release molecules, and nanoreceptors can be added to drug surfaces to release drugs exactly where needed.
As for different models, the DeltaVita®®® 15-300 is designed with growth and flexibility in mind with several available and interchangeable chamber sizes in stainless steel and ceramic construction. The laboratory series sizes range from 15 to 300 ml chamber volumes. The pilot series is the DeltaVita®®® 600 which offers 600 ml chamber volume. In the production series, NETZSCH offers models from 2,000 to 60,000 ml. DeltaVita®®® systems are available in portable and permanently mounted-through-wall installations. Each machine is designed specifically for your process requirements.