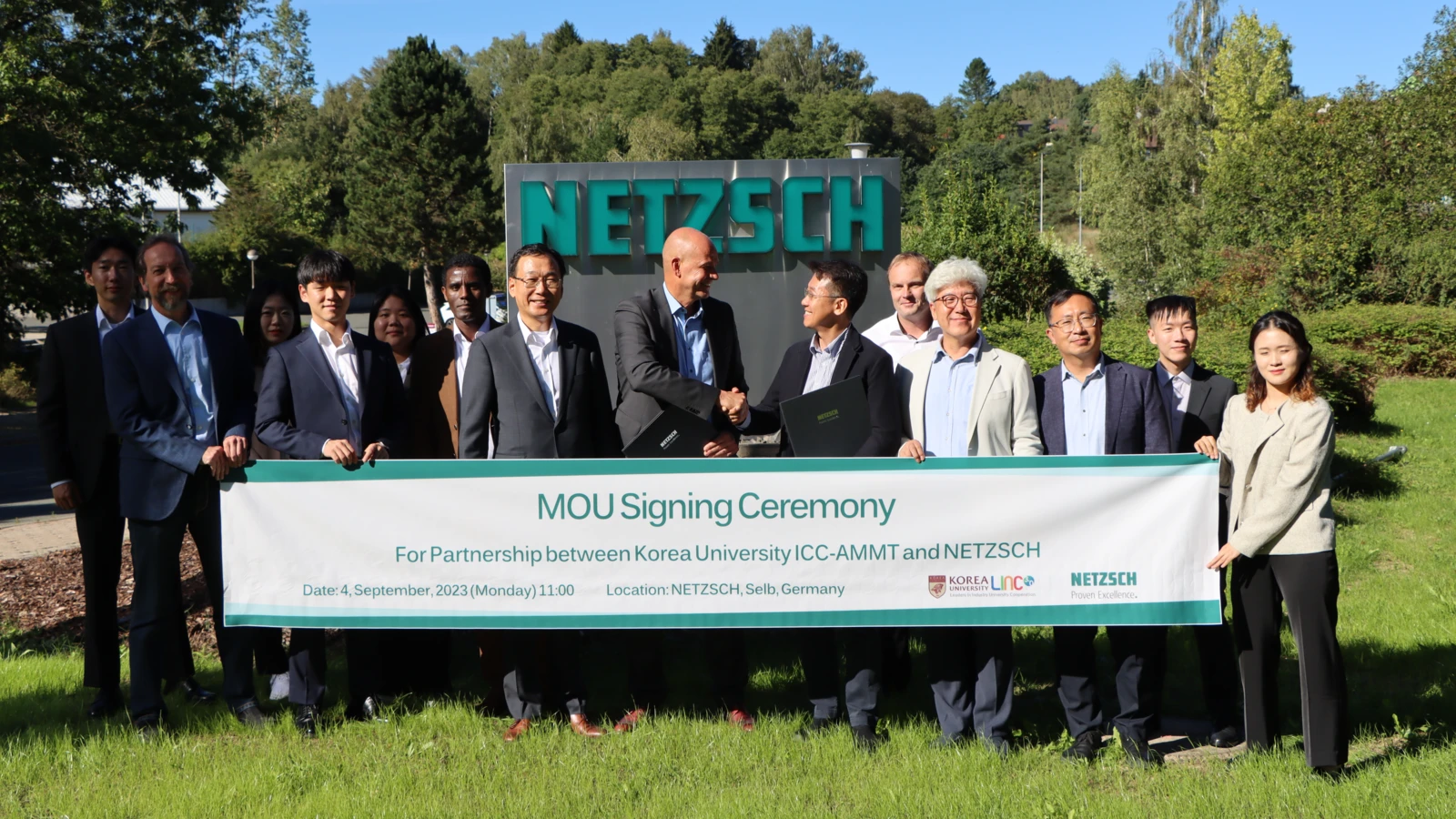 08.09.2023
NETZSCH - next level in battery research
High-tech "Made in Upper Franconia" and Korean research come together to produce lithium-ion batteries more sustainably and efficient
Korea University Seoul is launching a new type of research project. In the future, the focus will be on the highly automated industrial production of batteries, which is to be set up with the help of digital technologies.
An important strategic partner from industry is the NETZSCH company in Selb. In the battery cell manufacturing process, NETZSCH machines are used at the very beginning of the process chain - when the raw materials are mixed. These highly specialized machines and systems produce the various electrode pastes, anode and cathode.
ICC-AMMT (Industry-coupled Cooperation Center for Advanced Materials & Manufacturing Technology of Korea Universtiy) and NETZSCH agree to conduct industry-academy cooperation projects with Korea University LINC 3.0 program, and a MoU (memorandum of understanding) was ceremoniously signed in Selb on 4th September 2023.
With the "Cellvos®" project, NETZSCH will significantly support the potential of a digital twin combined with artificial intelligence in the production of battery pastes by supplying a novel pilot plant to Korea.
First, all relevant product and process data relating to the manufacture of battery pastes will be determined. Then, with the help of a so-called digital twin, it will be possible to simulate, analyze and optimize the behavior of products or the performance of a process - without having to change the product or the process itself. Inline measurement systems for Rheology are particularly used here.
In this project, artificial intelligence (AI) is used for the first time to determine the ideal process parameters for each battery cell during the various manufacturing steps and to control the process in a data-driven manner. The aim is to develop a particularly efficient production process.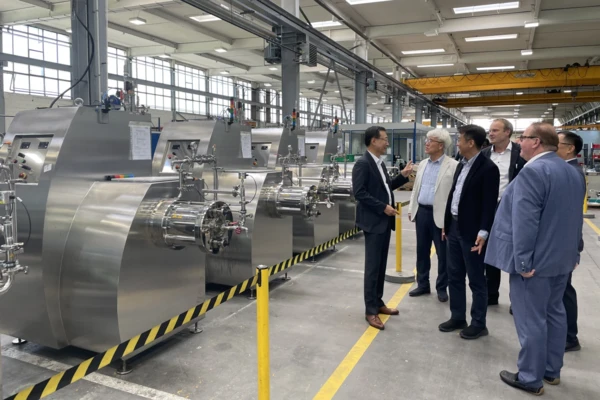 The three professors Joonho Lee (Director of Industry-coupled Cooperation Center for Advanced Materials & Manufacturing Technology (ICC-AMMT) of Korea Universtiy), Kijang Oh and Taesu Cheong, who are very well known and appreciated in Korea, were accompanied by sixstudents who already represent a future elite in Korea. These students went through a selection process and already have a high-paying employment contract in their pocket for their time after graduation.
"It is exciting to have the opportunity to leverage both of our complementary capabilities and aim to collaborate in areas we have yet to explore together," said CEO Ingo Rädisch of NETZSCH Grinding & Dispersing. "We are very excited about the prospect of strengthening the knowledge exchange and starting a good cooperation for sustainable development. The digital twin will undoubtedly make the development and production of battery cells networked and high-tech in the future. Digitalization of the entire process chain would contribute to greater sustainability and more efficiency."
Prof. Joonho Lee, from Korea University of Seoul added, "We intend to have a comprehensive cooperation with NETZSCH in the areas of battery manufacturing technology innovation to develop the so-called smart plants. Prior to this, the team will focus on concept work. Fundamentals for the "digital twin" must be defined and established.