01.10.2011
High Acclaim for NETZSCH-Feinmahltechnik – 2011 Innovation Award
The Eurocoat, a trade fair for the paints and coatings industry, is held in France every three years.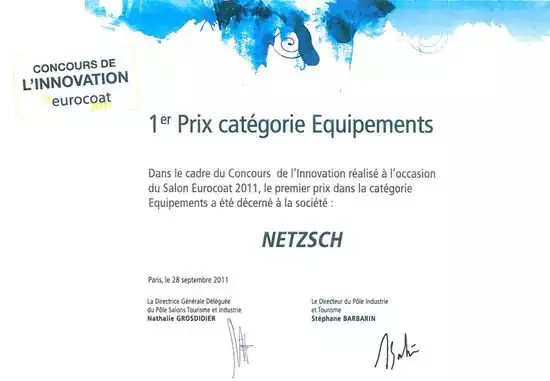 As part of the event, a competition is regularly held in order to recognize the companies with the best innovation in the three categories
production machines
new technologies in research and development
raw materials and additives.
At Eurocoat 2011 NETZSCH entered the competition with their new Zeta®RS Nano Mill and has won the 2011 Innovation Award in the category "production machines".
In the presentation of the Zeta®RS Nano Mill the advantage of the new separator system that allows the use of extremely small grinding beads (0.1 mm and smaller) was highlighted. This is necessary to meet the new product requirements of water- or solvent-based paints and coatings. Up to now, "traditional" ball mills have mostly been used for the production of these. There has been a change in approach in this area toward sophisticated products that require qualities in the submicron/nano range, e.g. inkjets, photo catalysts, LCD pigments.
The presentation of NETZSCH was evaluated and awarded by a jury of experts from the areas of production, technology and R&D. Decisive for the award were:
innovative machine technology for a growth market
high product quality
comprehensive machine series from the smallest laboratory machines up to production machines.
During the exhibition, the 2011 Innovation Award was presented to NETZSCH and the festive award ceremony took place in the presence of all of the trade fair organizers and the AFTPVA Society.