07.04.2016
耐驰 Alpha®Lab – 新一代可放大的实验室搅拌研磨机
Proven technology - new ergonomic design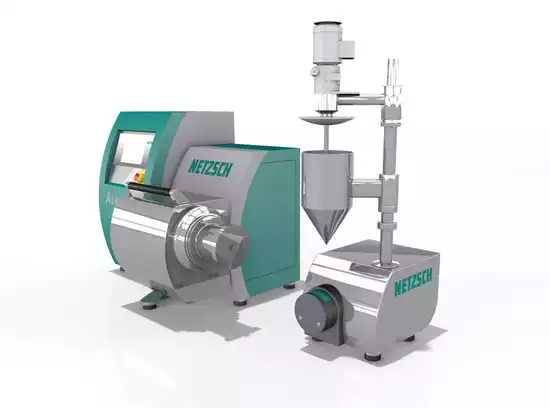 The LabStar laboratory-scale agitator bead mill is one of the most successful machines in the history of NETZSCH-Feinmahltechnik GmbH. On time for the POWTECH 2016, this machine has been given a new face and useful new features. With the new Alpha®Lab laboratory agitator bead mill, the concept of the new generation of agitator bead mills, presented for the first time in 2015 with the Alpha® 22 and the Alpha® 45, has been consistently transferred to the laboratory mill.
One new feature is that the Alpha®Lab, as the first laboratory machine of this size, can be equipped with a screen-free, separately-driven, open, dynamic classifier system for the separation of grinding media with a diameter of 0.03 – 0.3 mm, so-called micromedia. This means that a scale-up-capable solution for small product batches is now available for development tasks in the nanometer range.
For the new design of the machine stand, special attention was given to ease of use and ergonomics.
Like with the LabStar, the grinding chamber of the Alpha®Lab is swivel-mounted, so that filling with grinding media, emptying the grinding system with the least possible hold-up and discharging the grinding media after the test involve the least effort possible. In the process, the design was changed in order to optimize handling of the swivel mechanism.
With the Alpha®Lab laboratory agitator bead mill, different grinding systems can still be used. Here, a simple changeover between the grinding systems, which are available in various materials and grinding chamber sizes, is possible within a short amount of time. The complete system for supplying sealing medium to the mechanical seal is much more accessible than on the LabStar. This means that when the product is changed frequently, changing the sealing liquid is more convenient and less time-consuming. The arrangement of the control panel has been optimized. The machine controls now have a simpler and more manageable layout.
The new Alpha®Lab laboratory agitator bead mill is standardly equipped with the interface required for connection to the databank-based, web-browser-controllable tool, NETZSCH-Connect.
With NETZSCH-Connect, a databank-based, web-browser-controllable tool continuously records, pre-processes and encrypts process data and transfers them as XML files to a central server via a VPN network. This ensures that all process parameters configured during the development of new products are recorded and saved. Only with the appropriate access authorization can these data be viewed, analyzed and exported from any network-capable PC anywhere in the world.
This means that, even from afar, the product specialists and process managers always have the opportunity to gain an overview of the entire the production process and to lend their support at any time. Of course, for difficult applications, you can also grant the specialists from NETZSCH temporary access to your process data. This makes it convenient and easy to jointly discuss, analyze and optimize process data in such challenging cases.