19.03.2011
New Application Laboratory BlueLab
On March 18, 2011 the official inauguration celebration for NETZSCH-Feinmahltechnik GmbH´s new application laboratory took place in Selb.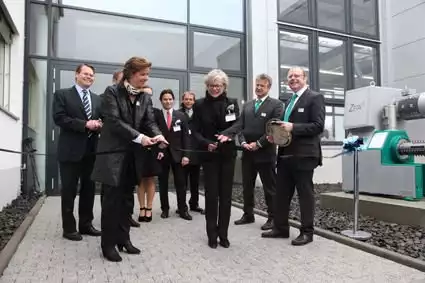 NETZSCH-Feinmahltechnik GmbH is one of the world leaders in the areas of wet- and dispersing technology. Dimitrios Makrakis, Managing Director of the Business Unit Grinding & Dispersing, welcomed many guests to the official opening ceremony of the BlueLab. With the expansion of the application laboratory in Selb, NETZSCH-Feinmahltechnik can now offer its customers even more possibilities for carrying out tests. As part of an extensive service offer, the processing of many and varied products can be tested on mills and mixers on a laboratory- as well as a production scale.
After the opening ceremony, the visitors were able to get an idea of the test labs BlueLab, RedLab and WhiteLab. In our Selb location different products and requirements are tested in different buildings. The name BlueLab is derived from the fact that this building is predominantly used for the processing of water-based products. In order to fit in with the name of the new lab, the existing ex-laboratory was renamed RedLab and the foodstuff laboratory WhiteLab.
The building of the new BlueLab is one further step in a whole series of investments in the Business Unit Grinding & Dispersing, which the NETZSCH Group made consciously during the last 2 years of the worldwide economic crisis.
In order to be armed for the future and further growth, in Germany, for example, a new s-Jet®®® test plant was installed at NETZSCH-CONDUX in Hanau. The final assembly for NETZSCH-Feinmahltechnik was moved to Selb and our plant in Tirschenreuth was developed to be the center of basic manufacturing. In Selb the WhiteLab (chocolate laboratory) was created and the laboratory area expanded and modernized. This underlines the continuous investments, which the management makes in the area Research & Development. Investments have also been made outside of Germany, such as those made in the local infrastructure in production, application laboratory and office buildings at NETZSCH Shanghai in China as well as NETZSCH in Brazil.