15.02.2016
The s-Jet®® now makes it possible to Dry-Grind down to the Submicron Range!
The NETZSCH s-Jet®® is a jet-milling system, which has the advantages of dry-grinding with superheated steam.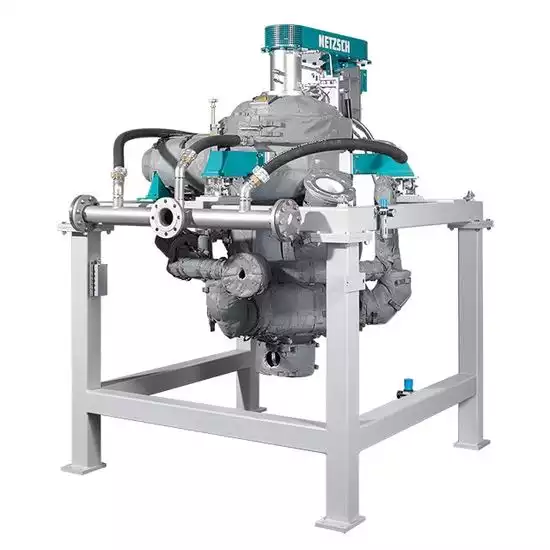 By using an air classifier integrated in the mill finenesses down to the submicron range are possible.
Significant benefits are gained by using superheated steam as a grinding medium instead of air. The jet energy which is considerably higher compared to that of air (jet speeds of up to 1200 m/s can be achieved) increases the discrete energy input, and the kinetic impact energy of the product particles is increased fourfold.
This is the most decisive point for obtaining finenesses in the submicron range (e.g. d50 0.2 µm). In addition to this, as steam has a considerably higher sound velocity than air, the possible peripheral flow speed within the classifier wheel also increases and with this the acceleration forces which effect the product being classified. Together, these factors make it possible to classify particles in a submicron range by dry-grinding.
The NETZSCH Steam Jet Mill of the s-Jet®®® series is available as a compact plant for grinding on a laboratory- or small scale. The space required for installation is only 3 m2! For throughput capacities of up to several tons per hour (depending on product and fineness) we recommend our systems designed for production on an industrial scale.
In our test lab at NETZSCH Trockenmahltechnik GmbH in Hanau this technology is available for production scale tests with your product on various different machine sizes.
NETZSCH at the POWTECH 2016 in Nuremberg
We will be exhibiting this and other innovations at the POWTECH 2016 in Nuremberg. You are cordially invited to visit us at our stand in Hall 4A/4A-223 from April 19-21. We appreciate your interest.