01.07.2016
Energy Management System in accordance with DIN EN ISO 50001:2011 successfully implemented at NETZSCH Lohnmahltechnik GmbH
NETZSCH Lohnmahltechnik GmbH, with facilities in Bobingen and Hanau, is the first company of the Business Unit Grinding & Dispersing within the NETZSCH Group to implement an energy management system pursuant to DIN EN 50001:2011.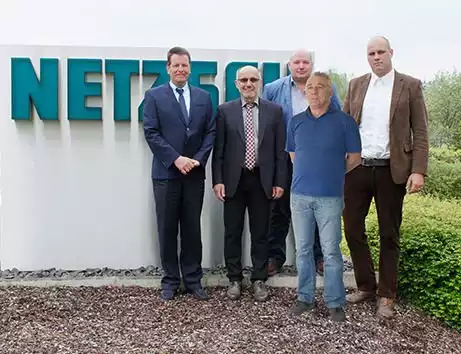 For many years, the company has set the standard for superior quality in the toll grinding sector.
Implementation of the energy management system pursues responsible use of energy. Through monitoring and optimization of the energy flows, energy efficiency is increased over the long term and costs are reduced. The system supports the logical development of efficiency measures and their coordination across different locations. In the future, the certification will contribute substantially to international competitiveness by improving economic efficiency.
A great deal of time and preparation was necessary to meet the requirements of the certification: energy consumption analyses, energetic ratings, the development of energy efficiency measures, and the development of specific measurement concepts to name only a few. Through training and raising employee awareness, we will economize on a sustainable basis to the benefit of our customers. The system has already been integrated into the existing quality management system in order to utilize synergies and guarantee uniform documentation.
Special thanks go to Mr. Hans-Erich Strahl, who is in charge of energy management, as well as Mr. Kasimir Kneis, Plant Manager for the Hanau facility.