16.05.2019
NETZSCH is equipped for the future: New safety regulation for tripod and overhead agitators
For more than 50 years, NETZSCH has been one of the world's leading suppliers of mixing and dispersing technology with its Grinding & Dispersing Business Unit.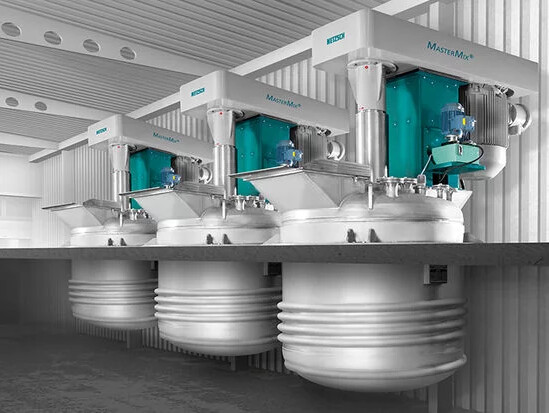 The special-purpose machine manufacturer produces several hundred dissolvers a year. These guarantee a high standard of quality and reliability in the production process.
On 18 October 2018 a new safety regulation for tripod and overhead agitators was published by the "German Statutory Accident Insurance" association. As there was no European harmonized equipment-specific standard and different agitators with highly differentiated safety levels were available on the market, manufacturers, operators, trade associations and organizations met to set uniform standards.
What was regulated?
Basically, protective devices that provide no incentive for manipulation must be in place for all hazard points and use state-of-the-art technology for safe machinery.
In particular, the requirements regulate:
Protections against hazards from the mixing device
Protections from hazards due to rotating agitator shafts
Tank lid with inlet opening
Dangerous movement of the lid, the tank lock and the agitator
Danger due to the mixing vessel
Minimum requirements for control of machines
Protective measures for cleaning and sampling
What does this mean for you as a NETZSCH customer?
For more than 50 years, the technology-oriented, owner-operated company has been producing dissolvers, tripod and overhead agitators that comply with the statutory quality and safety standards valid in the year they are manufactured. The security measures are regularly updated according to European regulations and laws, so that all newly-acquired machines comply with current safety standards. For older dissolvers, NETZSCH serves in an advisory capacity and offers retrofits/upgrades so that existing mixers can be brought up to the current safety standards before they are integrated into a production plant. In addition, NETZSCH guarantees that all production sites worldwide operate under the same safety standards as those defined at the parent company. All of the machines for Europe are manufactured at the location in Selb (Bavaria, Germany). Customers in Asia, Africa and Australia receive structurally identical dissolvers from the production plant in Shanghai (China). Machines for North and South America are manufactured at the site in Pomerode (Brazil), and the facility in Tula (Russia) supplies the mixing and dispersing technology for all CIS states.
The reliable dissolvers from NETZSCH are among the industry's most commonly used machines for mixing solids in liquids. In the process, pigment powder is dispersed in a binder. The function of the dissolver is to break up and stabilize agglomerates of primary particles. The applications range from coatings, printing inks, pigments and dyes, to uses in the cosmetics and pharmaceuticals industries.