02.07.2015
NETZSCH has expanded its Test Center in Hanau to include a new FoodLab
NETZSCH Trockenmahltechnik GmbH, the dry-grinding and classifying company in the NETZSCH Group has expanded its test center in Hanau to include a "FoodLab".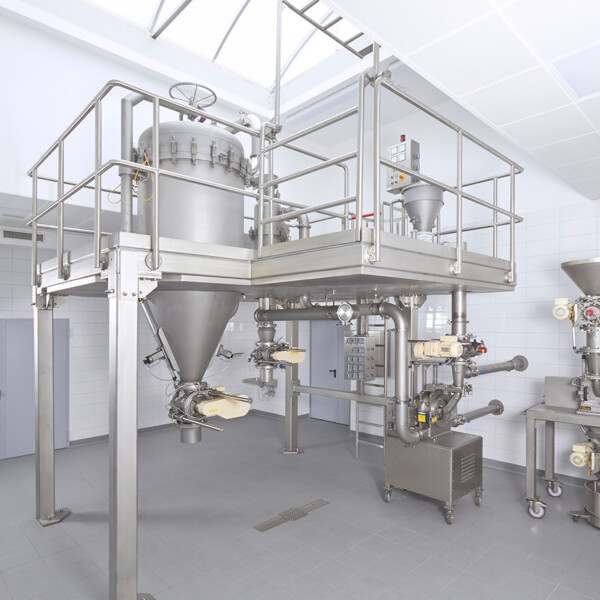 In the past few years there have been an ever increasing number of customers in the Food Branch who require mills for dry-grinding. The NETZSCH-Test Center in Hanau had previously not been equipped for carrying out tests compliant with food processing regulations – the main application areas being mineral flours and the chemical- and plastic branches – therefore, the design of the machines and plants installed in the test center were not able to meet the demands of the Food Industry.
For exactly this reason, NETZSCH officially opened the new "FoodLab" on April 29 2015 in the presence of customers and employees. After two-years of planning and building, Mr. Dimitrios Makrakis, head of Grinding & Dispersing, formally opened the FoodLab with a welcoming speech and by symbolically cutting a red ribbon! Afterwards, the numerous participants had the opportunity to take part in an informative tour around the new building during which a detailed presentation of the new FoodLab was made.
There are two new test rooms in the FoodLab. Testing in each can be observed from a meeting room through a large glass panel and access to each test room from the meeting room for visitors and employees is only possible via a hygiene sluice. In addition to this, there is a special measuring technology room equipped with all standard laboratory measuring equipment.
In the smaller test room a laboratory plant with NETZSCH Fluidized Bed Jet Mill type CGS (with interchangeable High Density Bed Jet Mill ConJet®® or standard classifier CFS modules) is installed for basic feasibility analyses for finest applications.
In the larger test room a pilot plant for dry-grinding equipped with an Impact Mill of type Condux® (with interchangeable Classifier Mill CSM module) is installed. As well as the pilot plant, an Impact Mill of type Condux® for grinding sugar in a compact execution is also installed in this room. This machine is fixed on castors and can be installed underneath the platform for gravimetrical dosing. All test machines in this test room are ATEX compliant with an inner zone 20. At the product inlet and discharge zone 21 is specified. All product contacting parts are in 1.4401 or in a material of an even higher quality and there surfaces are Ra < 0.8 µm polished. The processing air for the grinding plant is taken from outside via a suction filter and heat exchanger. With this equipment it is possible to cool the air, to separate out water and if required the grinding air temperature can be regulated after drying.