21.07.2015
From the Region – for the Region
For more than 50 years, NETZSCH, with the Business Unit Grinding & Dispersing, has been one of the world's leading suppliers of mixing and dispersing technology.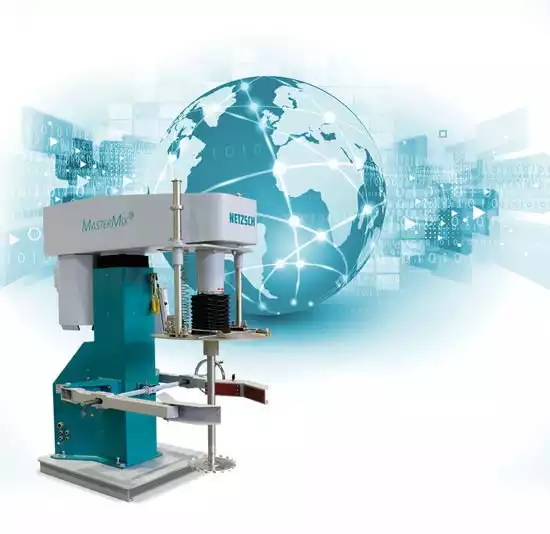 Every year, the special-purpose machine manufacturer produces several hundred dissolvers that guarantee a high quality standard and reliability in the production process.
In order to consolidate and enhance manufacturing expertise and competitive capacity in Europe and beyond, in the first half of 2015 the company optimized its strategy for the production of dissolvers, known under the name MasterMix®. Under the motto "from the region – for the region," the technology-oriented, owner-operated company manufactures its dissolvers in the region where the customer is located. Now all of the machines for Europe are produced at the facility in Selb (Germany), whereas the customers in Asia, Africa and Australia procure identical dissolvers from the production facility in Shanghai (China). The machines for North and South America are manufactured at the facility in Pomerode (Brazil), and the mixing and dispersing equipment for all CIS nations in Tula (Russia).
With production operations in four locations, NETZSCH guarantees its customers shorter delivery times and transport routes. "Our goal is to access new markets and adapt to the local needs with our product portfolio," explained Gerhard Kolb, Sales Director of NETZSCH-Feinmahltechnik GmbH in Selb.
The tried and tested dissolvers from NETZSCH are one of the industry's most frequently-used machines for mixing solids in liquids. In the process, pigment powder is dispersed in a binder, with the dissolver having the function of breaking up and stabilizing agglomerates of primary particles. The applications range from paint, printing ink, pigments and dyes, to use in the cosmetics and pharmaceutical industries.
"The unique experience and expertise of NETZSCH in mechanical process engineering allows further development and efficient production of our dispersing and mixing machines at four facilities. This unparalleled proximity to our customers significantly differentiates us from our competitors," says Gerhard Kolb.