28.05.2014
NETZSCH Counts on Innovation: The Mambo is introduced at Interpack 2014
Every three years, Interpack takes place in Düsseldorf, Germany. It is the leading global fair and most important driving force for the packaging industry and all related process technologies.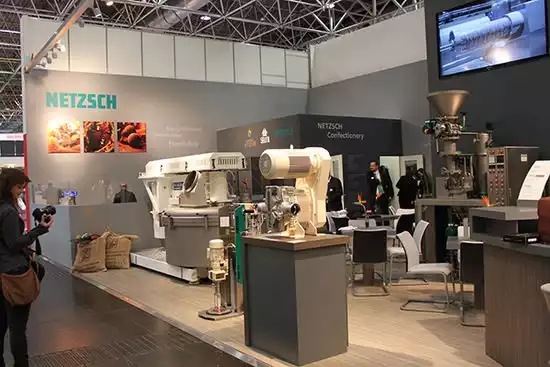 In particular, Interpack is the most important show for suppliers to the Confectionery industry. This year, 2700 exhibitors from more than 60 countries presented their latest ideas, innovative concepts and technological advances.
The Business Unit Grinding & Dispersion displayed their machines at three different stands, primarily because of the different applications that were covered. The NETZSCH Vakumix stand was for customers in the cosmetic and pharmaceutical industry. The NETZSCH Confectionery booth was for customers in the cocoa and chocolate processing industry, and the third stand was the NETZSCH-Dr.-Ing. Bauermeister booth. All three exhibits received a high number of visitors.
The highlight of the NETZSCH Confectionery booth was the newly developed Mambo® production plant which was introduced to the public for the first time at Interpack. New and existing customers alike were highly interested in the Mambo® with its completely enclosed plant design, and coordinated machine components with integrated cleaning processes. The presentation was supported by living doll actors with the theme, "Charlie and the Chocolate Factory". This was a big attention-getter.
The Confectionery department is particularly happy about the placement of two orders during the show. The Conche CE 1500 and the PreCutter were sold on the exhibition grounds. In addition to the Conche, an LME 60 was also sold. A model of this machine type, the LME 30, was displayed together with Beater Blade Mills from Dr.-Ing. Bauermeister in the booth NETZSCH-Dr.-Ing. Bauermeister.
NETZSCH Vakumix is also more than satisfied with the exhibition. A considerable number of high quality leads were collected. And, after the takeover of Vakumix by NETZSCH only as recently as March, many long-standing and partly uncertain customers could convince themselves that NETZSCH Vakumix is a reliable partner for their future business.
At present, all exhibition reports are being evaluated and many offers are being written. We can easily say that the exhibition was very successful for the Business Unit Grinding & Dispersing.
NETZSCH at Interpack 2014