05.09.2014
GammaVita Premix Tank
Over the years, the requirements for premix tanks have steadily grown, especially in the pharmaceutical industry.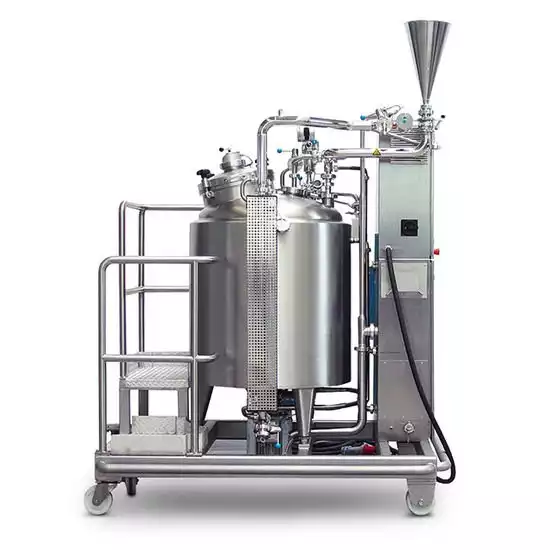 Today, features such as hygienic design or high-quality stainless steel construction alone are no longer sufficient to fulfill the specific challenges for flexible and safe processes in the pharmaceuticals world. The GammaVita premix tank meets these challenges and impresses with its broad range of applications. With the optional integrated circulation agitator or circulation homogenizer and powder suction devices, the tank can be used for mixing suspensions, solutions and emulsions and, with the heating/cooling jacket, it can be used for the preparation of lipid phases.
There are a number of advantages to mixing with a circulation agitator. On the one hand, creation of a high tank wall flow to the heating/cooling surfaces over the entire circumference of the processing tank guarantees good heat transfer to the product of the tank and results in short heating/cooling times. On the other hand, the high edge flow guarantees an even distribution of the substances to be admixed. The usually lengthy processes in the preparation of lipid phases, which result from the slow melting, are significantly shortened by the circulation, since the lipids that have not yet melted are mechanically processed. In addition, the recirculated, hot liquid phase in the tank comes back to the top, which further accelerates melting. Moreover, additional liquid or powder can be sucked into the circulating flow in the tank via a vacuum control for faster incorporation.
A wide variety of tank sizes with effective volumes ranging from 20 liters to 10,000 liters, mounting on load cells for automatic filling, mobile models or the option for integration into complete processing plants all underscore the flexibility of the GammaVita premix tank.