28.02.2013
NETZSCH Confectionery – System Rumba®®
The Rumba®® plant concept from NETZSCH-Feinmahltechnik GmbH is a complete process for the production of high-quality chocolate.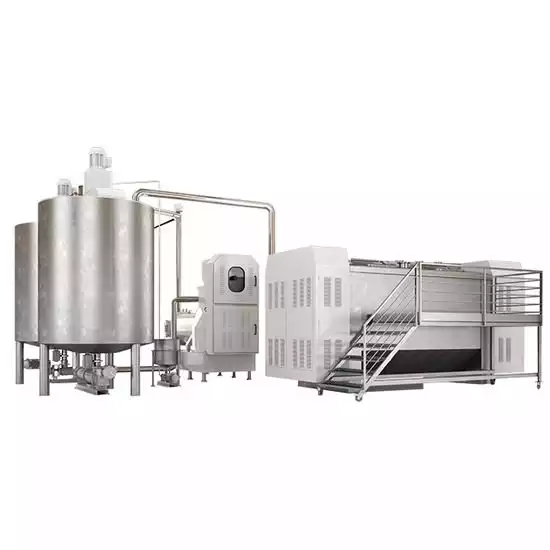 From the basic ingredients cocoa mass, cocoa butter, sugar and perhaps milk powder, you can produce your own dark, milk or white chocolate. With very easy operation of the compact, closed Rumba®® plant you can develop recipes according to individual needs.
NETZSCH offers the modular plant in six different sizes. In this way, requirements from 750 kg all the way up to 6,000 kg batch size and over 100 Tons/day can be met precisely. The NETZSCH Plant machine like the ChocoEasy®® U-Conch and LME Bead Mill series can be scaled up with high accuracy. Flexibility is the primary advantage common to every model. Each model can easily produce white, milk and dark chocolate and even allows the production of lecithin-free chocolate. In addition, all kinds of flavorings and additives can be mixed into the recipe anytime in order to reach new target groups or to surprise existing ones.
Compared to other systems, the Rumba®® process is characterized by reduced requirements for energy, cooling water and space as well as considerably shortened processing times, since the grinding and liquid-conching processes run simultaneously. The Rumba®® process also allows you to save on cocoa butter and / or lecithin.
Across the globe, NETZSCH provides support for your confectionery mass production projects, from the raw materials all the way through to the finished product. To ensure the success of your investment from the beginning, we take on the planning and implementation of your new production lines and train your personnel.