01.10.2010
NETZSCH-CONDUX Signs Exclusive Distributorship Agreement in Japan
After a long period of discussion with the mutual goal of promoting NETZSCH-CONDUX in Japan, Mr. Yoichiro Mitani, President of Toyo Hitec Co., LTD of Osaka, Japan and Mr. Dimitrios Makrakis, Managing Director of Grinding & Dispersing Business Unit, signed an Exclusive Distribution Agreement in Hanau on August 23rd, 2010.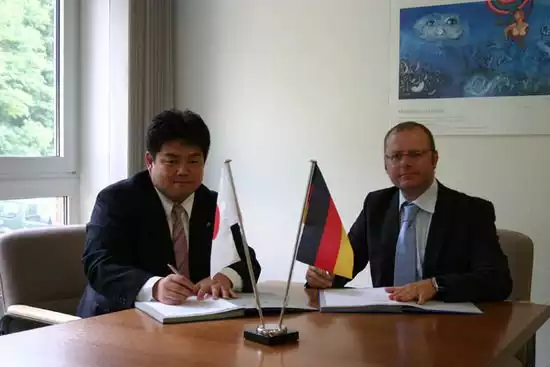 Toyo Hitec is a powder processing equipment and systems supplier founded by Mr. Tetsuo Mitani, current Chairman of the company in 1964. The company presently has over 100 employees; with administration, sales and engineering in its Osaka Headquarters, sales & engineering offices in Tokyo as well as in Shanghai/China, and operates a state of the art Powder Technology Center located in nearby Sasayam-shi in Hyogo-Ken Prefecture. This impressive facility houses several complete lines for pneumatic conveying, dry batching and blending, feeding and storage as well as individual machines for customer trials.
Toyo Hitec provides complete plants to the food and pharmaceutical, electronic materials, battery and energy, and chemical materials industries, among several others, complimenting the core businesses of NCX. Secondary battery plants are a specialty of Toyo Hitec with nearly 200 plants already delivered and in operation.