The NETZSCH PilotPlant is predestined for the production of small quantities. It can also be delivered in pressure shock resistant, gas-tight and wear protected execution in order to give more flexibility for meeting product requirements.
In contrast to the LabPilotPlant, with the NETZSCH PilotPlant various dosing units can be used – these can be optimally designed to suit the characteristics of the particular product.
The basic module of the PilotPlant, consisting of filter, cyclone, blower and switching plant, can be operated with the following machines:
Fluidized Bed Jet Mill CGS 16
High-Density Bed Mill ConJet® 16
Classifier Mill CSM 80
Ultra-Fine Classifier CFS 8
High-Efficiency Classifier CFS 8 HD-S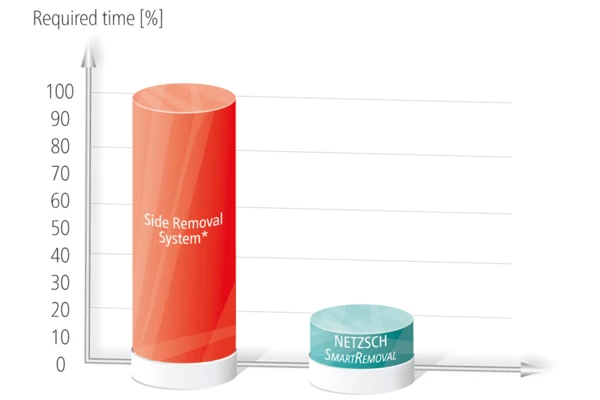 NETZSCH SmartRemoval
The filter of the LabPilotPlant is equipped with the SmartRemoval (patent-pending) filter hose exchange system newly developed by NETZSCH.
With this system, the same low residual dust content as that obtained with Top Removal filters can be achieved without their disadvantage, i.e. no additional installation height is required with SmartRemoval. NETZSCH SmartRemoval requires the same amount of space as standard Side Removal systems. With this system, no tools are required for exchanging the filter hoses and their mounting is significantly quicker and very easy. For you this means that filter hose exchange times are reduced by up to 80 %!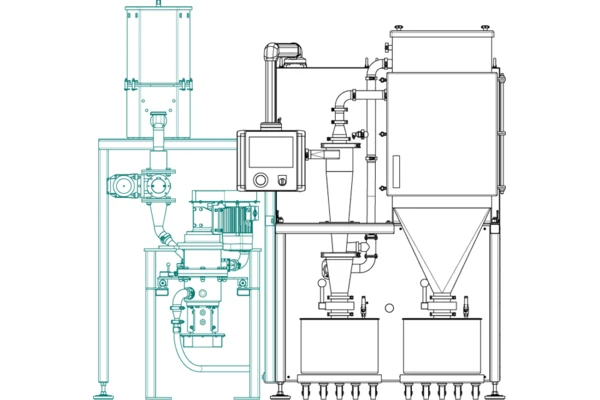 Technique
Flexible use
Optimum accessibility
Quick and easy cleaning
Efficient product separation
Can be used with a cyclone
Generously dimensioned filter door for comfortable access to raw gas chamber
Filter hose exchange can be carried out quickly without the use of tools thanks to NETZSCH SmartRemoval system
Dust-free product filling process
Easy and clear operation via operating panel in separate swivel arm
Delivery with various machine modules
Module retrofitting can be carried out at a later date
Various dosing units can be used
Optional delivery also possible in pressure shock resistant, gas-tight and/or wear protected executions
Your Contact at NETZSCH
Any specific questions? Contact us for help.