02.08.2021
Groundbreaking ceremony for the new Logistics Center of NETZSCH-Feinmahltechnik GmbH in Selb
NETZSCH invests 6 million Euros in the new Logistics Center of the Grinding & Dispersing Business Unit and aims to meet the tough international competition with innovations and new processes. With more efficient processes and project-specific digitization of the machines, the Business Unit can now help its customers to have the right component in the right place at the right time.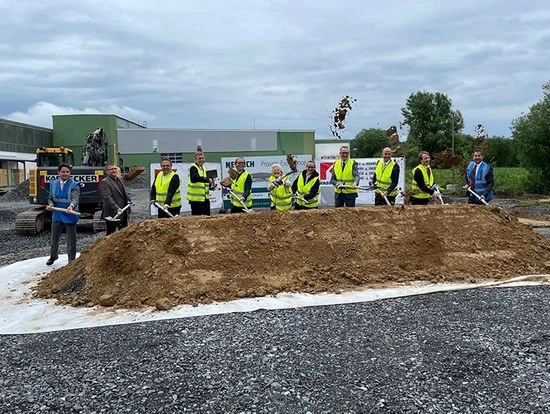 The final assembly of machines and systems is already located in a 7,500 m2 production hall on the grounds of NETZSCH-Feinmahltechnik GmbH in Selb, Breslauer Straße.
The Logistics Center serves, on the one hand, to increase the efficiency of final assembly and, on the other hand, to relieve the production facility in Tirschenreuth with respect to space and capacity.
The logistics center will be a single-story hall with an upstream incoming/outgoing goods zone. Offices for loading supervisors and logistics processing will be integrated into the building.
Due to the vastly different dimensions and weights of the components, a wide variety of logistics systems will be used in the hall. Around 30 employees will use approx. 85% of the space for warehouse logistics. About 15% of the area will be used for the assembly of small components, packaging and goods issue.
Cornerstones of our new Logistics Center:
Dimensions: 36 m x 90 m
Height: approx. 11 m
Floor area: approx. 3,200 m²
Reinforced concrete skeleton construction with insulated metal façade
Open to daylight via skylight dome and window strips
High insulation standard and highly efficient, gas-fired dark radiator heating system
Total investment: around € 6 million
Planned completion of construction: beginning of 2022