30.06.2014
New name, renowned products – NETZSCH-CONDUX becomes NETZSCH Trockenmahltechnik
The business unit grinding and dispersing, as one of three units of the worldwide successful NETZSCH Group, is a leading provider of state-of-the-art fine grinding and dispersing equipment.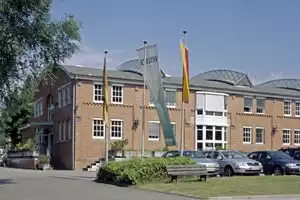 The systems offered by NETZSCH CONDUX Mahltechnik GmbH are designed for dry grinding and classification, while NETZSCH-Feinmahltechnik GmbH is specialized in liquid and pasty materials processing machinery. To make this difference more obvious to outside parties, the former NETZSCH CONDUX Mahltechnik GmbH will be renamed NETZSCH Trockenmahltechnik GmbH as of 1st July, 2014. The new name takes account of the range of high-quality dry grinding systems at the company's production site in Hanau. In addition to production facilities the site comprises administration, development and processing departments as well as laboratory and technical center, where detailed machinery tests can be made according to customer's demands.
The name CONDUX, however, will remain as an important part of the product range, through the mill model Condux®. The Condux® mill was developed in 2012 on the basis of the well-known CONDUX Universal Mill (CUM). It distinguishes itself through a modular design concept. Following this concept, NETZSCH renounces the integration of unused features from the outset, thus offering truly customized solutions and reaching a new level of cost efficiency. Additionally, a frequently made customer's wish from the past was met by extending the range of machinery sizes in the smaller scale classes.
Another highlight in the NETZSCH Trockenmahltechnik GmbH portfolio remains what was referred to in 2009 as "a quantum leap in finest grinding", for precise dry grinding by means of overheated steam. Or – to be more exact – the s-Jet®® jet mill system, which is based on this technology. It is the very first and only true dry grinding system on the market to achieve precise grinding fines in the submicron- and nano-scale range.
Furthermore, the product range includes different types of innovative dry mills of the renowned CGS, ConJet®® and CSM series, the SecoMy®® fine cutting mills as well as the high-efficiency classifier types CFS and InlineStar. All systems are available in various sizes.
The rebranding of NETZSCH-CONDUX in NETZSCH Trockenmahltechnik GmbH will have very little effect on customers. Products as well as services will retain their well-known high quality standards. Only the contract grinding activities will be handed over from NETZSCH Trockenmahltechnik to NETZSCH Lohnmahltechnik GmbH in Bobingen on 1st July, 2014. This will sharpen the profiles of the different areas of the business unit grinding and dispersing, strengthening the entire group not only with regard to technical innovation, but also in regards to its future structural security.
Thereby the company names reflect their special solution-skills:
NETZSCH-Feinmahltechnik GmbH – The specialist for wet fine grinding and dispersing
NETZSCH Trockenmahltechnik GmbH – The specialist for dry fine grinding and classification
NETZSCH Lohnmahltechnik GmbH – The specialist for contract milling services