06.05.2011
New NETZSCH Sugar Mill at ZDS
The company NETZSCH-Feinmahltechnik GmbH has been a member of the Zentralfachschule der Deutschen Süßwarenwirtschaft e.V. (short ZDS) since the beginning of this year and makes a CONDUX 150 COMPACT EDITION available to them.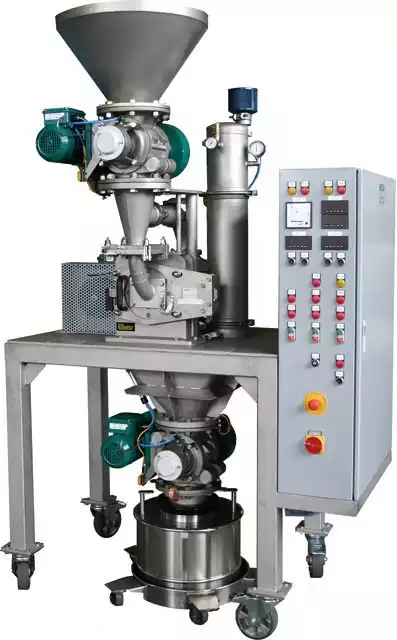 The mill will be used for sugar grinding in the technical centre of the ZDS. The official handing over will be during interpack 2011 at the NETZSCH exhibition stand (hall 3, stand 3D02).
Sugar Grinding with CONDUX 150 COMPACT EDITION
The grinding of products, whose dusts are potentially explosive, places particularly high demands on the technology used and the design of a grinding plant with regard to safety. The most frequently used variant is a complete grinding system which is pressure shock resistant up to 10 bar (g). However, this usually means considerable costs for peripheral equipment. With the new ATEX-compliant plant concept CONDUX 150 COMPACT EDITION, the installation of a more efficient grinding plant for many products is considerably easier: With this newly developed plant concept, explosion protection valves or explosion suppression equipment, explosion-decoupling devices, ventilators and even dust filter systems are no longer required in the classical sense.
Compared to conventional grinding plants, the process gas in the new CONDUX 150 COMPACT EDITION circulates in a closed loop. The sugar is fed directly into the mill via a pressure shock resistant rotary airlock valve and discharged after the grinding process underneath the machine via another rotary airlock valve.
The well-proven CONDUX is the basis machine for this new grinding system. The grinding of the product in this machine is carried out mainly by impact- and shearing action. The machine can be modified for various applications when used as a blast mill, pin disc mill or wing-beater mill by simply changing the grinding elements! In this way, varying finenesses of sugar can be produced without any difficulty.
About Zentralfachschule der Deutschen Süßwarenwirtschaft e.V.
Founded in 1951, the ZDS College enjoys worldwide renown as centre for training and personnel development for all sectors of the confectionery industry. The ZDS trains and educates technical experts in the field of confectionery technology and provides skills in food technology. It also offers special courses to prepare for state examinations as industrial supervisor and certified food technician. The ZDS seminars are internationally popular. Every year, participants from more than 30 nations attend technical conferences and practical courses concerning every aspect of confectionery production. The ZDS acts as consultant for companies all over the world and holds specific corporate training courses as well as conducting analyses and tests for member companies.
For more information please visit www.zds-solingen.de.