14.06.2016
It depends on the properties!
Powders play an important role as raw materials or intermediate products in the manufacture of many everyday products, whether, for example, in plastics, ceramics, detergents, batteries or printing inks.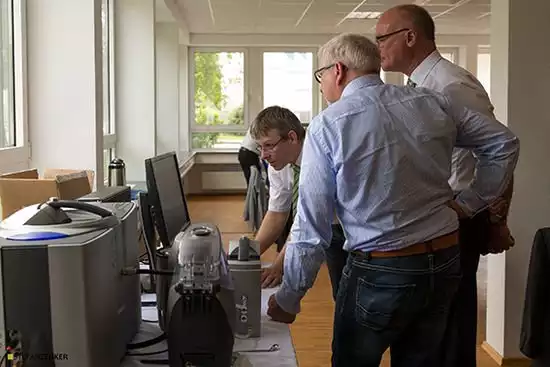 Therefore, the particle properties of these powders have a direct effect on the processing and thus on the quality of the end product. In order to more precisely identify these properties, NETZSCH Lohnmahltechnik in Bobingen held a joint seminar with Malvern Instruments on June 14, 2016 on the topic of particle size, form and flow characteristics of powders.
NETZSCH Lohnmahltechnik specializes in services for powder processing in the micron and submicron range. Malvern Instruments is a leading manufacturer of analytical measurement technologies for particle measurement and material characterization. The seminar addressed modern methods for particle characterization and potential applications. New combined processes were demonstrated for determining the characteristics of optimal product development.
The aim of this seminar was to optimize product understanding, selection of measurement methods and process quality. Defective products and the resulting costs should be avoided and the manufacturing processes improved. The understanding of the physical properties and the behavior of the bulk material was strengthened. The speakers included Herbert Hackl (Management, NETZSCH Lohnmahltechnik), Dr. Mark Wingfield (General Manager, Malvern), Oliver Schmitt (Applications Specialist for Process Measurement Technology, Malvern) and Dr. Nora Urbanetz (Head of Pharmaceutical Development, Daiichi Sankyo Europe).
The program for the day began with some brief opening remarks and the introduction of all participants. Oliver Schmitt from Malvern then introduced the scattered light method, with which the particle size can be precisely determined in powders. Here, he first addressed the size of a particle in general and then differentiated between the two processes of laser diffraction and dynamic light scattering. To round out the particle characterization, the size, shape and chemical composition can be determined. Dr. Mark Wingfield, from Malvern, introduced 3D particle measurement technology for this purpose. Dr. Nora Urbanetz, of Daiichi Sankyo Europe, reported on flow characteristics, first addressing the influencing factors and the various flow types, mass flow and core flow. In addition, she demonstrated the various measurements and illustrated examples through simulations.
Another element of the program was the lecture by Herbert Hackl from the NETZSCH Business Unit Grinding & Dispersion. The main focus was the significance of particle size analysis for assessment and quality assurance in toll grinding and classifying through micronization, classification and analysis. "Automated Particle Size Measurement" – in-line, alt-line, on-line – dealt with continuous monitoring and control of processes in real time. Oliver Schmitt addressed the question of why the measurement must be taken during the process.
At the end of the seminar, participants who had brought samples with them were able to test them on the Malvern instruments. This helped the speakers establish a good balance between theory and practice. Stefan Zenker and Herbert Hackl (both from NETZSCH Lohnmahltechnik) offered the other participants a tour of the NETZSCH Lohnmahltechnik production facility and lab in Bobingen.