The specially developed machine for small batches or first tests, like the NETZSCH-Vacuum De-Aerator, works according to the VTR principle (Vacuum Thin layer Rotation Procedure). Micronized gas and air pockets are removed with the laboratory De-Aerator MiniVac from liquids with different viscosities, as well as from viscous pastes and masses.
Depending on the product viscosity, the construction of the machine enables a continuous operation without an additional feeding pump at a throughput rate of 25 - 250 kg/h.
The MiniVac stands out with its easy operation. The ease of working with the machine is facilitated by the adjustment of the tank position. Further advantages of the vacuum de-aerator are easy cleaning and maintenance.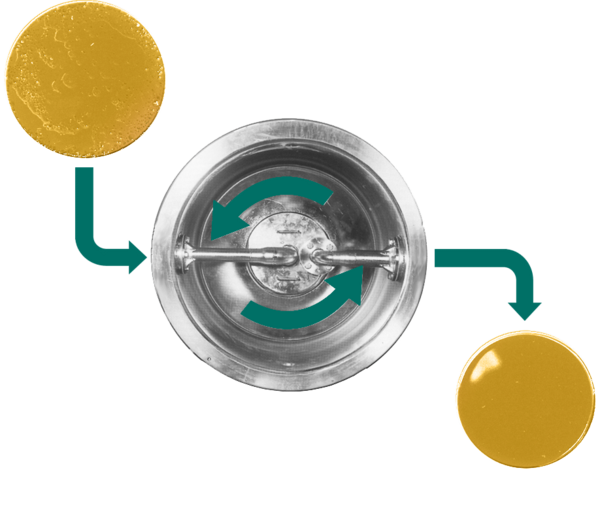 Technique
The product is drawn into the de-aeration chamber by vacuum, drawing the product into the center of the rotating bowl
The arising thin product layer is continuously de-aerated on the rotating bowl
The speed of the rotating bowl is infinitely adjustable via frequency inverter
The product discharge occurs through a pick-up pipe and is caused by centrifugal force
The residence time of the product within the de-aeration chamber is influenced by nonreturn valves and valves
Depending on the product viscosity, operation without an additional pump is also possible
Easy and clean handling due to swiveling process unit
The compact and ergonomically designed machine allows low maintenance expenditure and easy cleaning at minimum product loss
A high degree of flexibility at highest reproducibility when choosing the batch sizes
Your Contact at NETZSCH
Any specific questions? Contact us for help.
you may also be interested in: