01.04.2016
World Premier of NETZSCH SmartRemoval
Save time and money with the innovative filter hose replacement system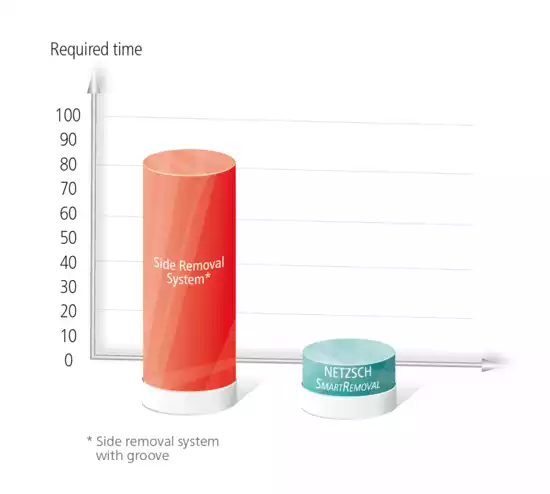 NETZSCH is bringing a system to the market that revolutionizes the exchange of filter hoses and baskets for Side Removal filters. The patent-pending NETZSCH SmartRemoval hose exchange system is unrivalled anywhere in the world.
Top or Side Removal
When it comes to filter systems, the choice is between Top and Side Removal Systems. Both designs have their advantages and disadvantages. Top Removal Systems are characterized by especially low residual dust content, but they require a specific building height which is often not available and, in such cases, can only be achieved through costly structural modifications. That is why Side Removal Systems are frequently employed. However, due to their design, the systems available until now have not guaranteed the same residual dust contents as Top Removal models. On the other hand, they require a great deal of time for hose replacement and cleaning. This leads to production downtime, which has a significant impact when frequent product changes are required and gives rise to high costs.
Save Time and Money
NETZSCH has the solution: with NETZSCH SmartRemoval, the company introduces a hose replacement system that combines the advantages of both systems and offsets their weak points.
Like the Side Removal System, SmartRemoval requires no additional ceiling height for the replacement of the filter hoses and it achieves the same low residual dust content as Top Removal Systems. The tool-free replacement of the filter hoses with SmartRemoval facilitates extremely easy and considerably faster installation. Compared to conventional Side Removal Systems, the time required for exchange is reduced by up to 80%. And the costs are reduced accordingly. Installation errors are virtually impossible. A modification or retrofit of existing systems with SmartRemoval is possible and is an important argument for anyone, who not only wants to save time and money, but also has a restricted building height. Removal of the filter baskets of a filter equipped with SmartRemoval requires no additional building height and there is more flexibility for installation in existing buildings.
With new features, the patent-pending NETZSCH SmartRemoval is unrivalled anywhere in the world. NETZSCH will introduce the new hose replacement system at this year's POWTECH in Nuremberg along with two other genuine world premiers: SpheRho®® – a dry agitator bead mill – and Epsilon – a totally new solution for producing homogeneous dispersions in an inline process with reproducible quality.